Bringing the best scanners on the market to our region
A CT or computed tomography scan allows physicians to look inside the body, using a combination of X-Rays. But unlike a traditional 2-dimensional X-Ray, CT scanners create incredibly detailed cross-sectional images and 3-dimensional images of a patient's anatomy.
A computer uses the X-Ray information to create a cross-sectional picture or "slice" of the inside of the body. The process is repeated to produce many such slices, which are stacked on top of each other to create detailed 3-dimensional pictures. CT scanners are unique because they can display a combination of soft tissue, bones and blood vessels in a single picture.
For many seriously sick or injured patients, a CT scan is crucial to rapidly confirming a diagnosis and beginning lifesaving treatment. For example, doctors at PRHC order CT scans to rule out a brain bleed for patients with head injuries, for rapid stroke assessment and to identify blocked arteries. A chest CT can even identify some effects of COVID-19, like pneumonia or other respiratory conditions.
Donor generosity is the reason PRHC's healthcare providers have access to essential diagnostic imaging equipment like CT scanners. But the hospital's current scanners are nearing the end of their lifespan. They need to be replaced with new, state-of-the-art equipment.
The good news is that technology has come a long way in a decade. New CT scanners have advanced imaging capability, enabling more rapid and precise diagnosis and treatment and reducing wait times for patients.
New CT scanners will fit the needs of the hospital now and well into the future. They are the best available scanners on the market and there aren't many hospitals outside of a handful of Canada's largest city centres that have this technology right now. One of the new scanners PRHC's experts would like to bring to the Health Centre can diagnose more conditions than ever before. It has CT coronary angiography, which looks at blood vessels of the heart to help diagnose cardiovascular disease. It also has more tools to diagnose vascular conditions and cancer.
Your gift will help make this leading-edge technology available at PRHC, ensuring sick and injured patients in our region will have access to the lifesaving equipment that is critical to their care.
You can make a donation online, or for more information, please call 705-876-5000.
New CT scanners will fit the needs of the hospital now and well into the future. They are faster, meaning shorter scan times. They will provide much better quality images, making it easier for my colleagues and me to see what's happening inside a patient's body. And there's less radiation used during a scan with new technology, which means less risk to the patient.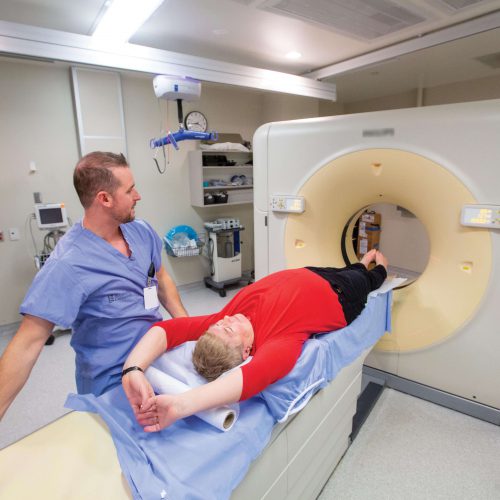 Dr. Mario Voros is a PRHC Radiologist who's leading the charge to bring two new, state-of-the-art CT scanners to the...
Read More
Learn About Our Other Current Giving Priorities