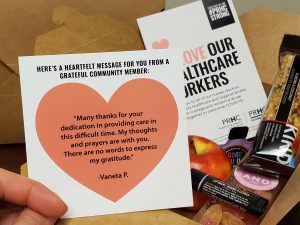 Peterborough Regional Health Centre has an incredible team of nurses, staff and doctors. Over the last year, they have demonstrated courage and strength while continuing to provide care and support for patients and their families.
We're so proud of them, and grateful for the work they do, every day. And we're grateful to all of the donors who have helped us support them throughout the pandemic.
Donor generosity funded tools and supports such as additional scrubs, new plexiglass screening stations at hospital entry points, and iPads and supportive equipment for the Virtual Visiting Program so isolated patients can connect with loved ones.
Thanks to your donations, PRHC is better positioned in 2021 to continue caring for as many patients as possible while keeping patients, families, volunteers and PRHC's 3,200 workers safe.
Now, PRHC Foundation is honoured to partner again with your hospital to show our healthcare providers how much we – and you, through your donations and kind messages of thanks – appreciate them. This week, 3,200 wellness kits made possible by the generosity of Foundation donors are being delivered to the Health Centre's nurses, staff and physicians. Each kit includes both fun and healthy treats, and self-care products.
We also included one of a selection of the hundreds of personal notes of appreciation Foundation donors sent to us this year for our PRHC team members. We join the hospital in hoping these tokens of our and your gratitude bring a smile to their faces. 
As they tackle the third wave, our work continues. Our mission has never been more important. In addition to funding PRHC's most urgent needs including COVID-19, your gifts are helping to give the hospital's experts the essential tools they need to save lives.
If you'd like to support your hospital, please visit prhcfoundation.ca/love/. There you can send a message to the PRHC team and make a donation in their honour. Thank you for continuing to show them your grateful hearts!