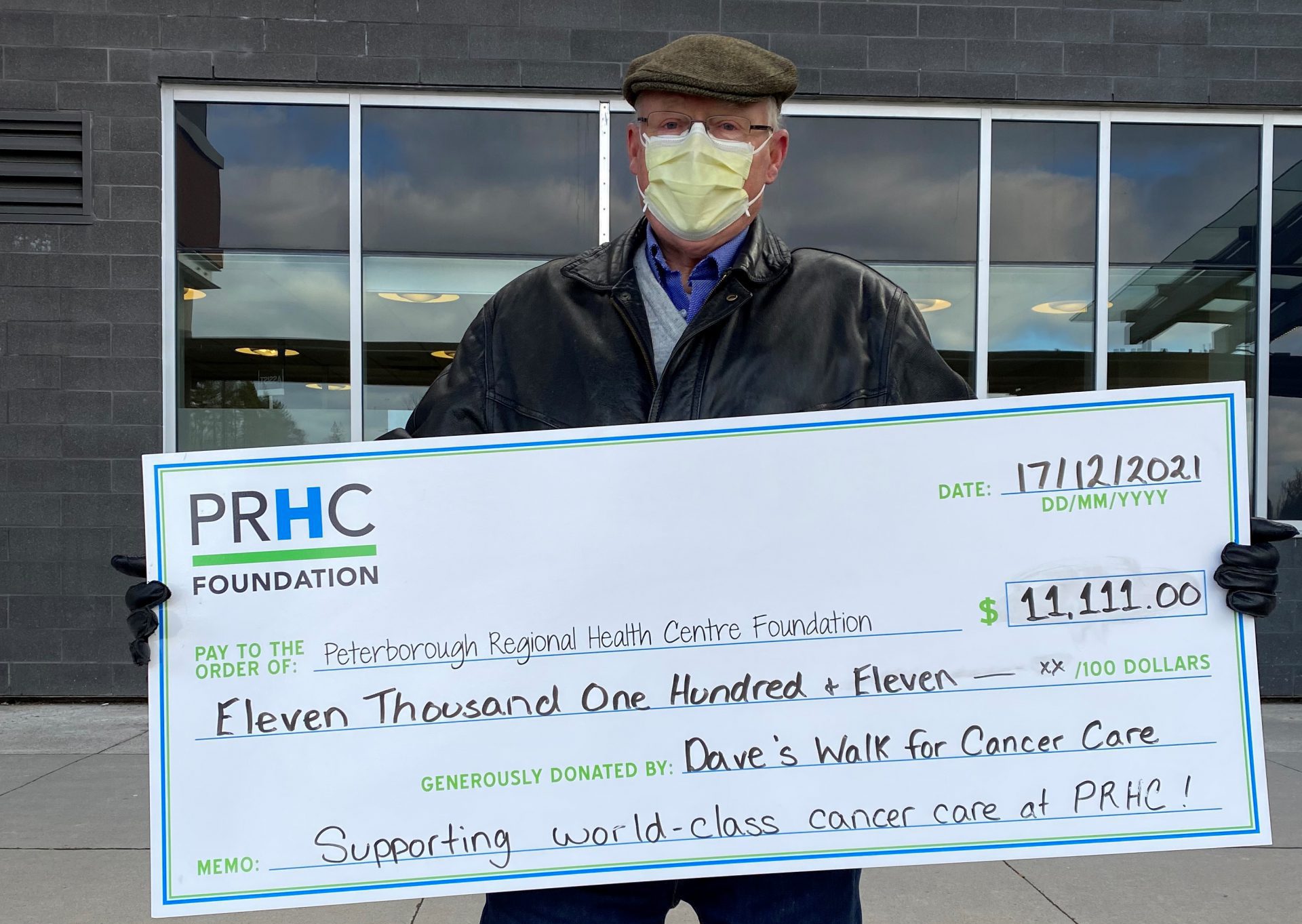 Dave Graham and his family were shocked when he was diagnosed with colon cancer in late March 2021. "But we had to keep our heads up and keep going," he says. 74-year-old Dave truly got going. He started walking for exercise and his daily strolls gave him time to think and pray. His strong faith played a large role in carrying him through his diagnosis, then surgery a couple of months later.
Dave describes PRHC's Cancer Clinic as another bright light at that dark time. While he wasn't happy about why he had to go there, he found he looked forward to seeing the healthcare professionals who supported him during his twice monthly chemotherapy appointments. He appreciated their compassionate and upbeat attitudes, and straightforward approach to care.
Dave also found comfort in the support of his family, church community and close friends. One of those friends had his own personal experience with a cancer diagnosis and care at PRHC's Cancer Clinic. Dave had always admired his friend's positive spirit and after his diagnosis, appreciated it even more. "And there are so many people with cancer," Dave says. "They're all suffering and struggling, and I wanted to inspire them the way my friend inspired me."
While experiencing great care and with so much support around him, Dave decided that something good had to come from his diagnosis. He was moved to give back to his hospital and his community.
Dave approached the PRHC Foundation, and with a little help, set up a fundraising initiative as a way to say thank you to PRHC's Cancer Care team and contribute to the care of other cancer patients. He couldn't have known then the extent of the positive impact his fundraiser would have.
Dave set a big goal: Walk 7,000 steps a day through mid-December when his chemotherapy was due to end, and raise $5,000 to help fund the equipment and technology PRHC's doctors, nurses and staff use every day to provide outstanding cancer care to patients from around the region, close to home.
The community's response to Dave's fundraiser was overwhelming. Not only did people donate, they reached out with prayers and words of encouragement and thanks. Dave received emails and phone calls, sometimes from acquaintances he hadn't seen in years.
"One day the doorbell rang," Dave says. "And there was a man I worked with 30 years ago. He'd heard about the fundraiser and wanted to personally give me a $100 donation and wish me well."
People Dave has never met reached out, too. "I've received notes from strangers, people who are also going through cancer or have a family member with cancer," he says. "They'd say, 'we're all going through this, we have to help each other.'"
The support of his community inspired Dave all over again. "Some mornings instead of getting up to walk at 6am, I just wanted to stay in bed. But my community kept me going," he says. "All these people were walking with me."
Soon Dave surpassed his $5,000 goal and he raised the bar to $10,000. The area's residents responded once more, taking Dave's Walk from one man's objective to "a team effort," Dave says.
PRHC Foundation President & CEO, Lesley Heighway, describes the ripple effect community fundraisers have. "They give people hope and it inspires other people to consider making a difference of their own by doing something similar," she says. "Financially, fundraisers are extremely important for our hospital, but they also galvanize people. They bring people together. Dave inspired others to think 'Wow, look at what he's doing. Maybe I could do something similar.'"
Dave's fundraiser grew beyond a single walk to a series of creative initiatives as more and more people were motivated to get involved.
His daughter Leslie and son Matt organized a Hair & Handlebar shave with the hope of raising $1,000 to contribute to their father's goal. Over $2,000 later, Leslie shaved her head and Matt sacrificed his signature moustache for the cause.
Dave's wife, Liz, wasn't to be outdone. "I baked 11 dozen shortbreads and pickled two big lots of beets to sell on Facebook," she says. "And then my hairdresser heard about it and took six dozen of the cookies." Other businesses in the region also reached out to make donations.
In December, Dave finished his chemotherapy and his walk, having taken 765,000 steps in his journey to say thanks for great care and help ensure patients like him continue to receive advanced, personalized cancer screening, diagnosis and treatment at PRHC.
PRHC Foundation President & CEO, Lesley Heighway, explains that since the government doesn't fund hospital equipment, PRHC relies on community donations to fund the tools Health Centre experts use every day. "All of those gifts come together to enable the great care that we have here," she says. "It's also a huge morale boost when staff and medical professionals see what people like Dave are undertaking in the community to ensure that the next person who comes after them can have access to world-class care."
Shortly after Dave finished his walk and treatment, the PRHC Foundation was grateful to receive $11,111 in donations collected through his fundraiser. And then Dave and Liz topped even that amount! "A Christmas card came with $50 in it," says Liz. "So we added that to the donation to bring it to $11,161."
"This experience was so humbling," says Dave. "It's an experience I wouldn't have wanted to miss. I know at my age I won't have a chance to do something like this again for my community. I feel fulfilled."
The PRHC Foundation is incredibly grateful for the generosity of Dave and Liz, their family, friends and congregation, and the wider community who donated and contributed their time and support to Dave's Walk. The funds raised are enabling PRHC to invest in advanced new CT scanner and MRI technology used in the diagnosis of cancer, and a state-of-the-art robotic intravenous automation (RIVA) system to ensure every complex, patient-specific chemotherapy dose is prepared safely and accurately in a sterile, automated environment.
It's donors who make the difference between good and great care. On behalf of PRHC, especially patients and their families, thank you to everyone involved in this generous initiative.
If you'd like to learn more about organizing your own personal fundraiser, please visit our Events page.