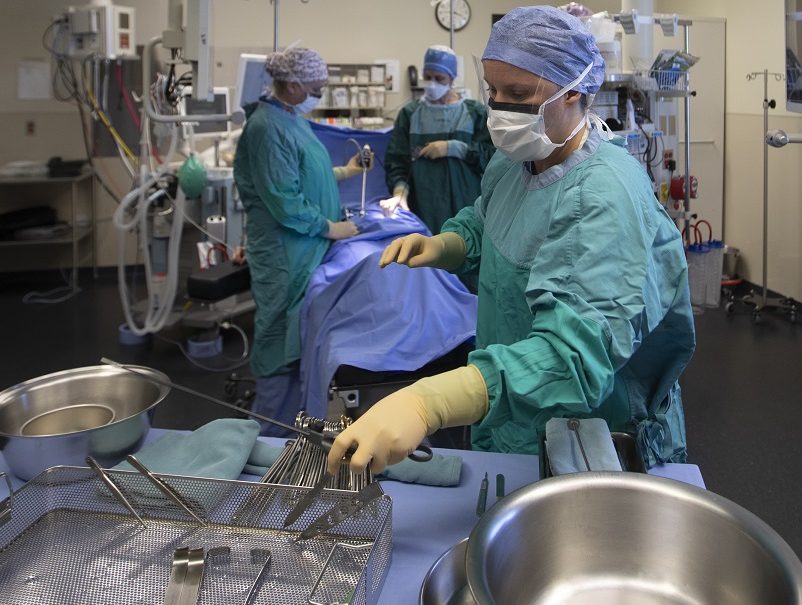 With donor support, PRHC will introduce fluorescence-guided imaging technology to the hospital's general operating suites for the first time. This innovation is part of a replacement and upgrading of outdated surgical tools, allowing PRHC's general surgeons to perform minimally invasive procedures with GPS-like precision – with less risk of complications for patients.
With fluorescence-guided imaging, contrast dyes or agents are injected into the patient's bloodstream prior to surgery, making anatomical features, organs, nerves or even cancer cells, light up. That highlighting will help doctors use other new, advanced equipment, like ultra-high-definition scopes and monitors, enhanced cameras, and improved light sources, to locate, remove and reconnect tissues. PRHC general surgeon Dr. Joslin Cheverie explains why this is so important for patient care, using a common bowel surgery as an example.
"When a diseased or cancerous portion of colon is removed, the remaining healthy sections are joined back together. It's critical that the repaired section have healthy blood flow, or the patient is at greater risk of complications," she says. "With this technology, I'll be able to make better, more informed decisions during surgery."
Fluorescence-guided imaging and state-of-the-art surgical tools are an exciting element of a wider, $13 million reinvestment in minimally invasive interventions, which also includes interventional radiology.
Replacing the hospital's surgical technology now will ensure PRHC's experts have better visuals to more accurately perform lifesaving and life-changing operations – like colorectal cancer surgery, emergency appendectomies, hernia repairs and gallbladder removals – right here, safely, quickly and with less wait time.
It's donors who will make this possible, funding advances in minimally invasive technology and techniques that empower physicians like Dr. Cheverie to treat more conditions, efficiently, without big cuts, using less anesthesia, and leaving behind nothing more than a tiny scar. 
For patients, that means less pain, reduced risk of infection, shorter hospital stays, and faster recovery. This is important for all patients, but especially those vulnerable to complications, including the more than 60,000 seniors in our region.
For more information on this investment, please call 705-876-5000 or to make a donation, please click here.