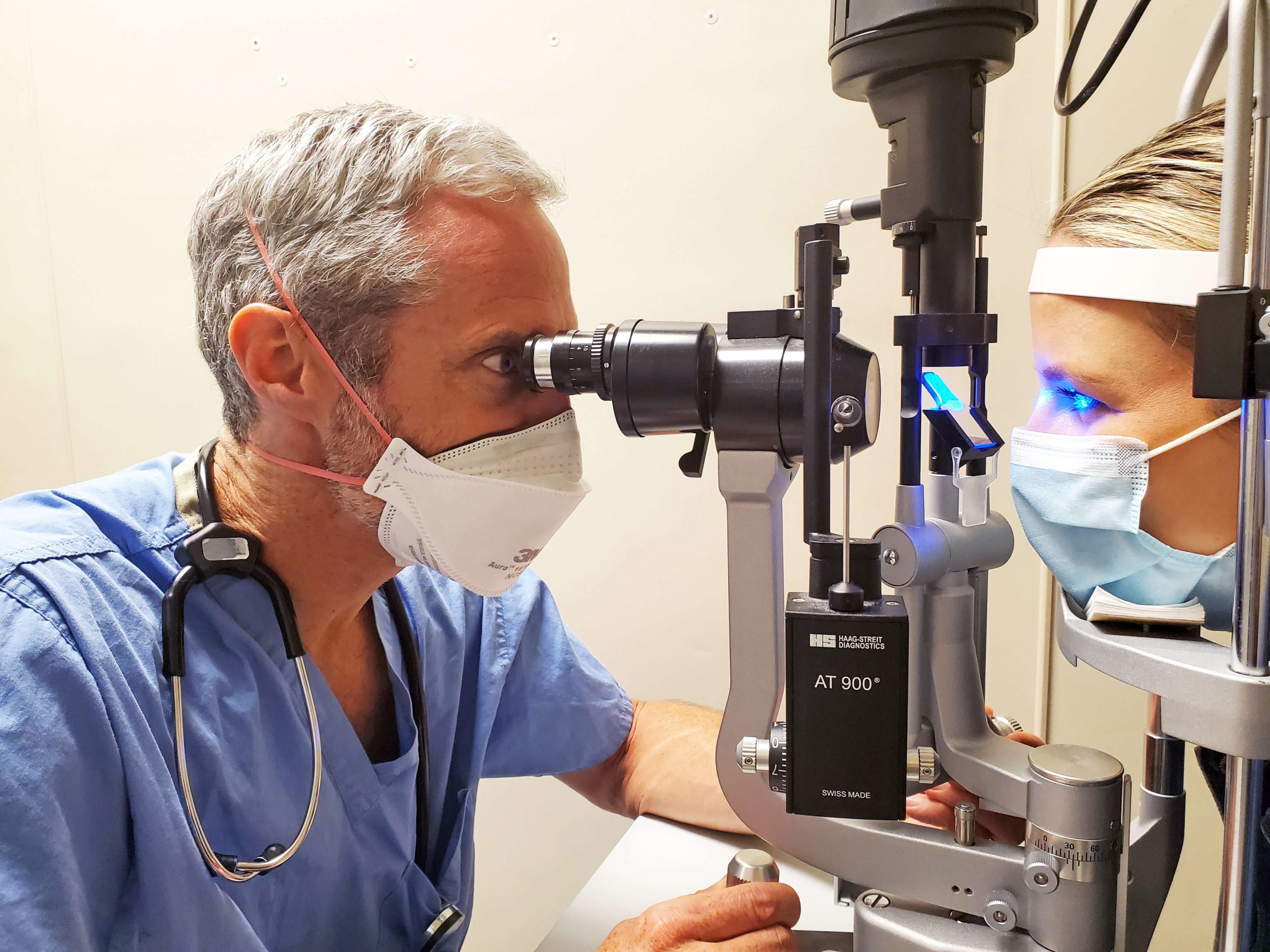 Last year, more than 76,000 patients visited Peterborough Regional Health Centre's Emergency Department (ED) in search of urgent, expert healthcare. Open 24 hours a day, seven days a week, it's historically one of the busiest EDs in the province.
Throughout the year, emergency physician Dr. Aidan Cunniffe and his colleagues use an ophthalmology microscope known as a slit lamp up to 2,000 times to diagnose urgent eye health issues and help save patients' sight. This essential equipment many of us have encountered during a scheduled eye exam includes a binocular microscope and a strong, concentrated light.
Used so often, the slit lamp wore out last year and was replaced – not like-for-like – but with more advanced equipment funded by PRHC Foundation donors. The new technology is more reliable and instead of incandescent light bulbs that regularly burn out, features powerful, long-lasting LED light.
Dr. Cunniffe uses the lamp to examine a patient's eyes and get a clear, 3-D look at what is happening in and around them. By adjusting the light, he can look at different parts of the eyes and face, including the skin around the eye, the eyelids and lashes, the surface and other layers of the eye, and the retina. The lamp helps him spot foreign bodies, abrasion of the cornea, signs of impact or detachment of the retina, and infection.
"Occupational injuries are a common emergency eye health issue we see in the ED," says Dr. Cunniffe. "Recently a patient who had been injured at work came in with a lacerated cornea – a cut into the eyeball. He'd lost his vision. The slit lamp helped me diagnose the injury quickly, expediting an emergency eye surgery to save his sight."
It's crucial that PRHC's emergency doctors, nurses and staff have the technology necessary to diagnose patients and get them the best treatment as soon as possible. Because the government doesn't fund equipment, PRHC counts on donors to fund the lifesaving and life-changing tools the hospital's healthcare providers need – essentials like the slit lamp.
"Thank you, donors," says Dr. Cunniffe. "Because of your generosity the new slit lamp is helping me provide vital care to patients from across the region."