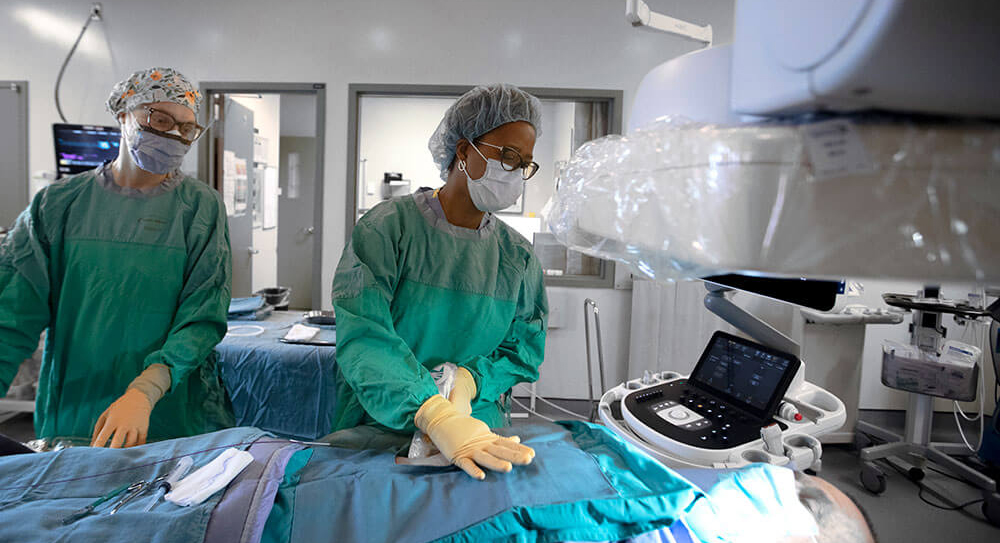 Dr. Kebby King has been providing minimally invasive care to patients in the donor-funded interventional radiology suites at Peterborough Regional Health Centre for 14 years. During that time she's seen a lot of innovation in her field – making interventional radiology a broad specialty that can be used to diagnose and treat patients with a variety of medical conditions.
One area that has shown a lot of innovation in the application of interventional radiology is cancer care. Known as interventional oncology, this sub-specialty can be used to treat a variety of cancers and cancer-related disease – including kidney tumours, some types of pancreatic cancers, primary liver tumours, and cancer spread to the liver from the colon, pancreas and breast, to name a few – often allowing patients with cancer more time to live their lives.
"Interventional oncology has revolutionized cancer treatment," says Dr. King. That's because traditional cancer care involves administering chemotherapy medication to the entire body. For PRHC cancer patients who are candidates for interventional radiology, Dr. King and her colleagues perform very targeted treatments, using catheters and wires guided through tiny incisions in the skin and blood vessels, to focus precisely on the cancer.
"We're able to specifically target the cancer," explains Dr. King. "Either by delivering a higher dose of drugs to the target or by performing ablation or microwave therapy to kill the tumour directly."
"We're bombarding the cancer with all the good stuff to try to stem its spread and growth," she says. "And because it's so targeted, it has fewer side effects for the patient and it can be done on an outpatient basis." Performed without the large incisions and associated risks of open surgery, it also means less pain and recovery time for patients.
This level of advanced and complex healthcare is available in the Peterborough region as a direct result of our generous donors. But PRHC's interventional radiology suites are now 14 years old and are too small to fit new, advanced technology and the number of medical personnel required to use it. 
Your donations now will help shape the future of interventional radiology at PRHC. You'll enable a $6 million upgrade and expansion of the interventional radiology facilities, including state-of-the-art equipment. With this essential upgrade, Dr. King and her colleagues will be able to perform more innovative and complex, minimally invasive procedures right here, so patients can receive the best care, close to home.
For more information or to support this exciting investment, please visit prhcfoundation.ca or call 705-876-5000.